Take the next step
It takes courage to make change happen. I'm here to help.
About
Create a life YOU love
I am here to help you heal; to help you repair your relationship with yourself and those in your life. Whether you are looking to increase self-confidence, manage ADHD, depression or anxiety, I'm here to provide the tools for you. We will work on practical solutions, guiding you to find your authentic self in a compassionate setting. You will be empowered to step outside of your comfort zone, grow and make healthy changes in your life. You will find your authentic self to live a better, more aligned life. I am a licensed clinical mental health counselor who is here to help those ready to do the work. I work with teens, adolescents and adults. I am trained in art therapy, traditional talk therapy, and use a variety of approaches to meet my clients where they are at. This work is not always easy, but is rewarding and empowering. ~ Frequently Asked Questions~ DO YOU ACCEPT INSURANCE? I do not accept insurance but you do have the option to utilize your out-of-network insurance benefits for our sessions. This typically is done by submitting what's called a "Superbill," to your insurance. A superbill is essentially an itemized receipt that lists your appointments with diagnostic information on it. I will explain it during the free phone consultation as well. HOW DO I FIND OUT WHAT MY OUT-OF-NETWORK BENEFITS ARE WITH MY INSURANCE? Please contact your benefits coordinator/health insurance plan directly to gather more details around your out-of-network coverage for mental health services. The following questions may be helpful in your discussion with your insurance carrier: 1) Do I have out-of-network benefits for mental health services both in-person and telehealth? 2) What is my annual deductible? Has my annual deductible been met? 3) How many sessions per calendar year does my plan cover? 4) How much does my insurance plan reimburse for an out-of-network provider for the following CPT codes: 90837, 90791, and 90834? 5) Do I need a referral and/or approval from my PCP? HOW FREQUENTLY AND FOR HOW LONG DO WE MEET? Sessions range from 45-50 minutes in length. I find that weekly sessions provide the most benefit and room for growth for my clients. I do request that the first four sessions are conducted weekly to establish a relationship, get to know you, explore your history, and develop a foundation for successful healing and growth. We can collaborate during the initial intake appointment if this needs to change. The length of therapy sessions needed varies person to person. The goal is to use therapy effectively and implement changes in your life so that you can move forward without therapy. Termination of services will be discussed at our initial appointment and throughout treatment. DO YOU OFFER IN-PERSON OR TELEHEALTH APPOINTMENTS? I offer the option of both in-person or Telehealth appointments based upon your needs/preferences. I am licensed in New Hampshire and Massachusetts. WHAT IS ART THERAPY? The American Art Therapy Association defines Art Therapy as "an integrative mental health and human services profession that enriches the lives of individuals, families, and communities through active art-making, creative process, applied psychological theory, and human experience within a psychotherapeutic relationship. Art Therapy is used to improve cognitive and sensory-motor functions, foster self-esteem and self-awareness, cultivate emotional resilience, promote insight, enhance social skills, reduce and resolve conflicts and distress, and advance societal and ecological change. Through integrative methods, art therapy engages the mind, body, and spirit in ways that are distinct from verbal articulation alone. Kinesthetic, sensory, perceptual, and symbolic opportunities invite alternative modes of receptive and expressive communication, which can circumvent the limitations of language. Visual and symbolic expression gives voice to experience, and empowers individual, communal, and societal transformation." We will focus on the process over the product; what you feel and experience vs the final art piece. DO YOU ONLY OFFER ART THERAPY? No. I am a licensed clinical mental health counselor and therapist. I am trained in psychotherapy and have over 10 years of experience in the mental health field. Using art will be offered but it is up to you if you want to engage in art making in session. -- DISCLAIMER -- You have the right to receive a "Good Faith Estimate" explaining how much your medical care will cost. For more information or about your rights to a GFE visit www.cms.gov/nosurprises.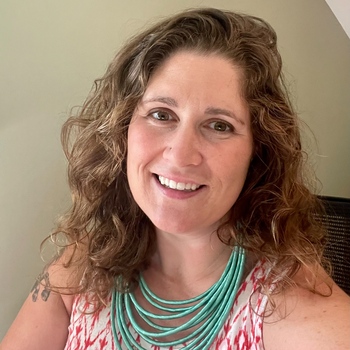 Authentic Soul Counseling ~ Aimee Arsenian
Art Therapy, Therapy & Counseling
Services
Self Esteem
Life Transitions
Depression
Anxiety
Adjustment Disorder
Anger Management
Burnout
Codependency
Peer Relationships
Relationship Issues
Stress
Women's Health
Women's Issues
Work Stress
Approaches
Art Therapy
Cognitive Behavioral Therapy (CBT)
Person-Centered
Compassion Focused
Culturally Sensitive
Expressive Arts
Fees
Initial Consult/Intake: $215
Art Therapy: $190
Psychotherapy: $190
15 minute consultation: $0